Protect Those Dog Paws This Winter!
From frostbite to ice balls to chemical burns, the winter months can be so harsh on delicate dog paws.
Keep your pooch's paws safe this winter by following these tips.
WASH THOSE DOG PAWS AFTER EVERY WALK
Even if your dog's paws don't seem too dirty, it isimportant to give them a wash after each walk in the winter months.
Why?
Because sidewalks are often treated with chemical de-icers in the winter, and these can lead to chemical burns on paw pads. Not only that, but if your dog happens to lick his paws and therefore ingest the de-icer, the consequences could be fatal.
Keep a small bucket or bowl of warm water by your front door, and dip your dog's paws into this before entering the house.
It goes without saying that you should never let your pooch eat or drink any ice or water from sidewalks that could have been treated with salt or a de-icer. If possible, try to have your dog walk on the grass or snow next to you, rather than a treated sidewalk.
Wondering if there are any dog-friendly de-icers around?
Yes, there are quite a few available, whether you opt to use just sand or an actual dog-friendly de-icer. If there are quite a few dogs in your neighborhood, speaking to your neighbors and informing them about this issue could definitely be worthwhile.
MAKE SURE THOSE DOG PAWS ARE WELL-PREPPED AND TRIMMED FOR WINTER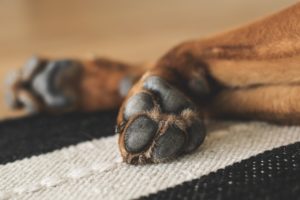 You may think that your pooch could do with as much extra hair as possible in the winter. This will help to keep him warm, right?
Well, if that hair is on your dog's body, then yes.
However, extra hair on your dog's paws can cause problems in the winter...
When those hairs touch the ground, it doesn't take long for ice balls to form around them. These then get larger the more the dog walks. If you own a long-haired dog, then you are likely well familiar with this!
Fortunately, there's a simple way to stop this from happening.
Use some clippers or scissors to trim away any excess hair from around and in between the paw pads. Make sure that the length of any hairs are the same height as the paw pad itself.
Well-trimmed nails will also help to prevent snow or ice from accumulating on those dog paws. You can either trim them yourself, or pay a visit to your local vet or groomer to have them trimmed for you.
INVEST IN A PAW BALM
A paw balm may seem like an unnecessary extravagance, but they don't cost much and can make a huge difference to the health of dog paws.
How?
Well, to begin with, you may have noticed that your own skin tends to dry out in the winter.
The same happens to your dog too. Dry and cracked paw pads are an extremely common winter problem for dogs.
A paw balm can help with this.
How?
By providing the cracked pad with the moisture and nutrients needed to speed up healing.
Before using a paw balm, you need to make sure that you have trimmed away any excess hairs from around the paw pads. You can read more about this above.
When should you use a paw balm on your dog?
The times when a paw balm would be most beneficial are:
Before a walk – applying a paw balm before a walk will provide an extra layer of protection between your dog's paws and the cold environment around him

After a walk – after washing your dog's paws post-walk, apply a layer of the paw balm to seal in any cracks and prevent dryness
Where can you get a paw balm from?
You will find one at your local pet shop. There are plenty to be found online too, and you will likely have more options on the internet. You may need to try a few different brands before you find one that both you and your pooch like.
DOG BOOTS
If you live in an area that experiences quite a severe winter, then dog boots may be just what your dog needs.
These are placed over dog paws like a sock, and have straps to help hold them in place. They keep the paws completely dry, preventing them from coming into contact with ice, chemical de-icers or anything else.
Before you rush out to purchase some boots for your dog...
There is no denying that your pooch will look super cute in a pair of dog boots. However, be aware that your dog is not going to enjoy wearing them at first.
It will take quite a bit of persistence and training on your part in order to help your dog associate the boots with positive experiences. 
How should you train your dog to get used to winter boots?
Begin by putting them on your pooch for short periods of time, with lots of encouragement, praise and high value treats. You may need to begin with two boots rather than four. Each time you bring the boots out, give your dog a treat. Keep doing this each time you put a boot on or make any other sort of progression. 
You can then build on this slowly as your dog gets more accustomed to the boots.
Still think your dog could do with some boots?
Here are a few things to keep in mind when purchasing some winter boots for your dog:
Fit – make sure that the boots fit properly. They need to be loose enough to allow movement but not too tight that they restrict your pup's natural stride

Traction – think about where your dog will be wearing the boots and how much traction will be needed in those areas

Height – higher boots will keep more of your dog's leg dry, but can take even longer to get accustomed to
While dog paws are relatively tough, they are no match for all that winter throws at them. Following these tips will help to keep your dog's paws fit and healthy throughout the season.