How to Teach Your Dog to Play Fetch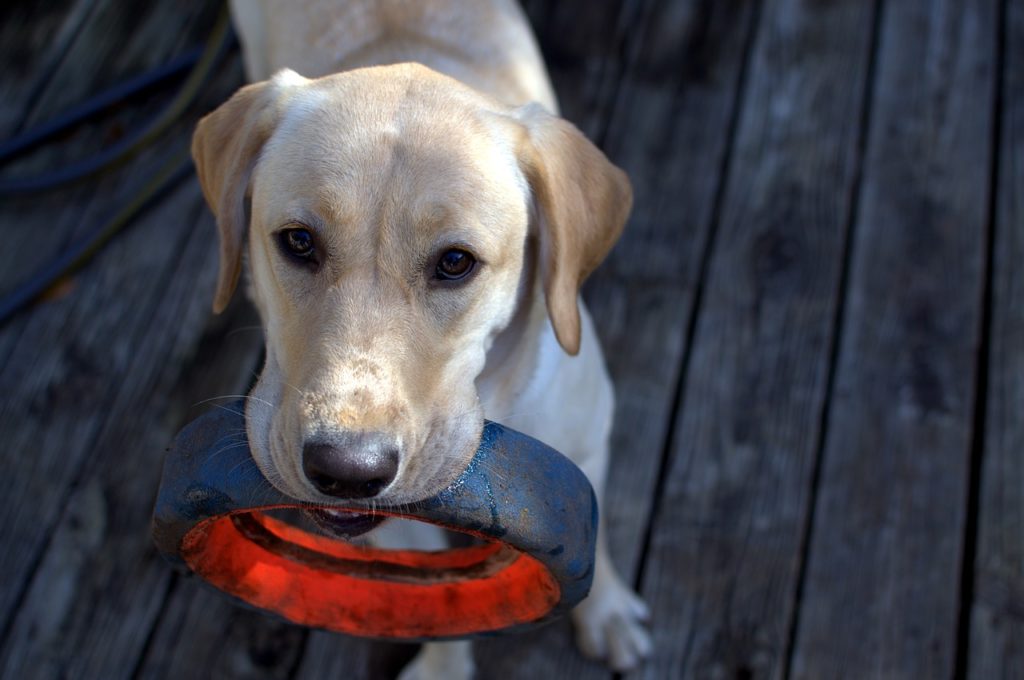 Courtesy: Pexels @ PixabayDo you feel jealous when other dog owners throw a frisbee and their pets go running after it? Have you tried to engage your dog in a similar game of fetch and he or she just stares at you? Sure, your dog might not be interested in the game. It's much more likely that there is a miscommunication going on. Your dog simply might not know how to play fetch. So, it's up to you to figure out how to teach your pet to play.
Finding the Right Toy
Almost every dog is interested in some kind of play object. This could be:
Knotted Rope

A Frisbee

A Ball

A Stick
First, you'll need to figure out what kind of toy your pet loves the best. It's important that Fido likes chasing and tugging on the toy. Buy a few different things and try them out with your pet to see which one they like chewing on the most. If you already know what kind of toy they like best, great! The next step is starting with the basics.
Tug-Of-War
Once you have figured out what kind of toy the dog is highly focused on and interested in, you can initiate a game of Tug-Of-War. This is an instinctive form of play for many dogs and they really enjoy fighting with you over that play object. Do your best to get them interested in the toy by placing it in front of them or waving it enticingly. Most dogs will want to grab and pull it to try and get it away from you.
Don't let go of the toy. This helps keep the dog engaged and focused on getting that object. Plus, as soon as they get it your dog will be less likely to want to let go, and may even run away from you. The game of tug should be ongoing, and you might even do your darndest to keep the object away from your pet. If it looks like the dog is starting to lose interest, slowdown, and place the object in front of them again to get their attention. Try to keep the game going as long as possible.
The Art Of Letting Go!
You'll want to start incorporating the "Let Go" command into your Tug-Of-War games. A good round of fetch can't happen unless the dog knows to release once he's brought the toy to you. One way you can start incorporating the idea of letting go of the toy is to just hold onto it firmly and not move or encourage your pet. You may even want to make eye contact and stare him or her down until they let go and back off a little.
You won't be making the dog upset. This just forces him or her to refocus their attention to you to see what's going on because you're no longer playing tug. As soon as the dog does this, you'll start waving the toy again and try to your pet back into Tug-Of-War.
Repeat this process a few times until your dog understands and is willing to let go at the signal. You might want to start saying, "let go" or, "release" when you want the dog to stop biting the toy. Eventually, your pet will associate the words with your desire to stop playing tug.
The Throw
Once the dog is familiar with playing Tug-Of-War over the play object, you can start to add the element of throwing the object into the game. Don't throw the toy very far, because that may confuse your dog. Instead, just toss the play object a few feet away and see if your pet goes for it. Your pet should be very focused on the toy before you proceed to this step.
If you have a frisbee, try rolling it on the ground. That kind of movement helps catch a dog's attention, so they'll be inclined to chase it. Continue doing this until your dog is so engaged that he's willing to run after the toy and pick it up.
The Return!
Gradually increase the distance you throw the object as the dog gets better at chasing after it. Do your best to resist the urge to chase after your pet too. Instead, start calling to your pet as soon as he or she picks up the object. Make the calls positive, light, and encouraging. Your dog might come to you right away.
However, this isn't always the case. Once your dog has gotten the highly valued play object, he may want to keep hold of it or may even run off and try to initiate a game of chase with you. Thankfully, there are a few ways to deal with this behavior.
#1 Backing Up
If your dog comes to you, but stops a few feet away, try backing up while encouraging your pet. When your dog reaches the spot where you were initially, you can come back to meet your pet with lots of praise. Soon, he will figure out that you want him to come all the way up to you.
#2 Leash Method
If you own a dog who likes to run off with that toy and doesn't seem to hear you when you call, you might consider using a training leash. These are extra long leashes that give dogs plenty of room to roam, but not get away from you. Keep your dog on a leash and throw the object to a distance that's within his or her range. When your pet picks up the toy, slowly pull the leash in while calling out in a positive way.
#3 Alternative Treats
Should your pet continue resisting your call, add some other type of positive reinforcement. Bring along a to a second toy that your dog really likes and keep it hidden behind your back until your pet picks up the first toy. Show your dog the second toy, while encouraging him or her to come towards you.
Food is also a good potential reward for a pet who comes all the way back. Just keep in mind that if you use treats often your pet may start to expect them as a reward for a trick, rather than learning how to play a game with you.
With time and plenty of practice, your pet will understand the basics of fetch. But, the first method you try doesn't always click. When the game isn't happening, you might have more success using the RAPT method of dog training. It will help you learn how to build a better bond and start Playing Games With Your Dog today!