How to Teach a Dog to Stay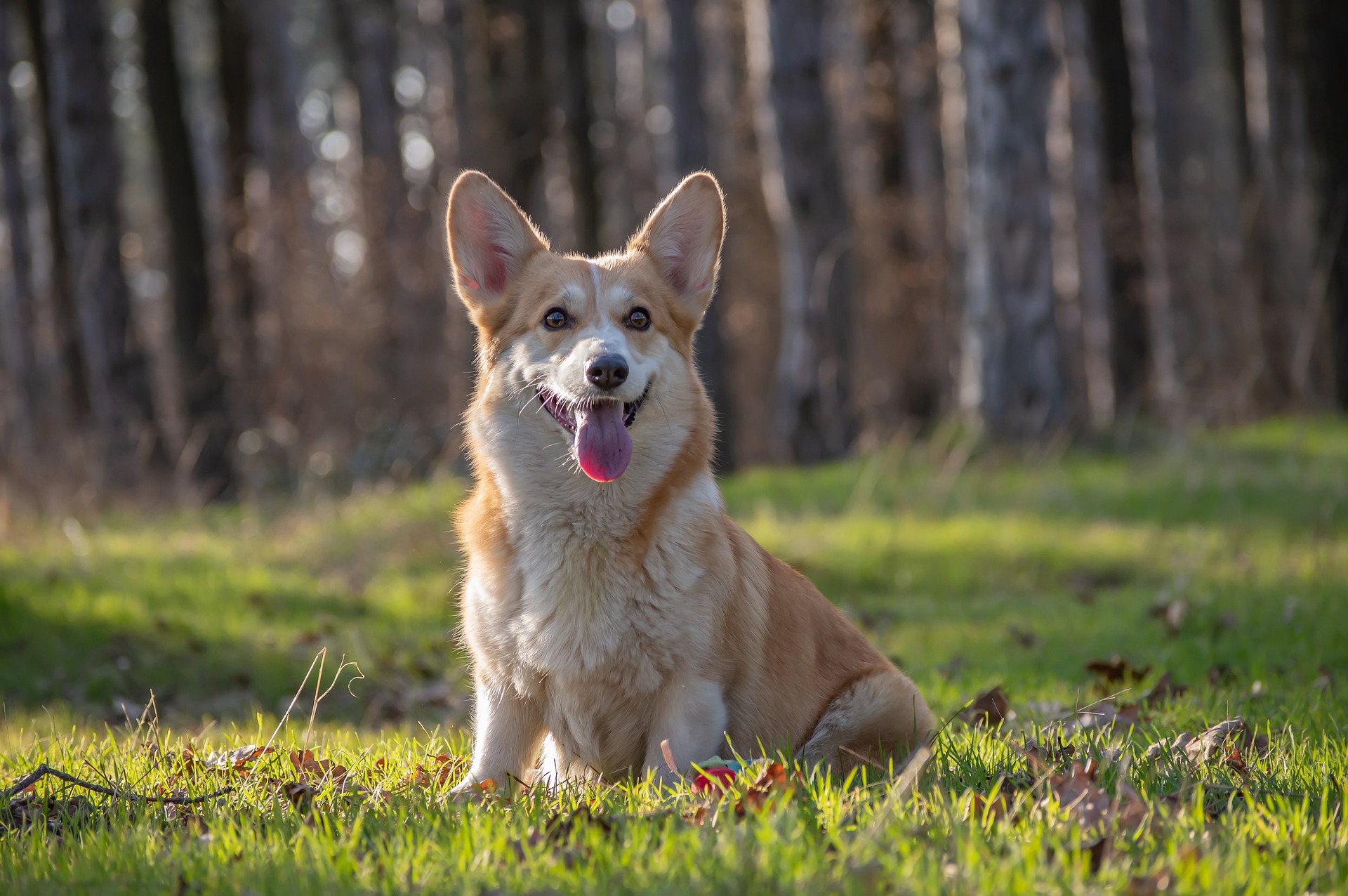 Image courtesy of ElfinFox @ Pixabay
Looking for how to train a dog to stay?
The "stay" command may seem simple, but there are actually several steps involved when it comes to teaching this. It does take some time and effort, but this is a part of basic obedience that is definitely worth mastering. From choosing cue and release words for dogs to an advanced stay, read our guide to perfect your technique.
Choose Your Cue and Release Words
Before you begin training a dog to do anything, you need to decide on your cue words. In terms of the "stay" command, this means having a distinct beginning and end.
Examples for beginning to learn how to teach a dog to stay would be, simply, "stay" or "wait." For the release, you could use "okay," "done," or "release." A hand signal to accompany each cue word is also useful.
Once you've decided on your cue and release words, you're ready for the next step in how to train a dog to stay.
The First Steps
To start, put your dog into a sit or down position.
Then, give your dog your stay command. Immediately after this, say your release word for your dog and then reward them. Encourage your dog to move around after you say the release word using praise, treats, or whatever motivates them most.
How to Reward Your Dog
When learning how to teach a dog to stay, the reward is important. The specific reward depends on what motivates your dog the most. Some dogs are happy with praise and attention, while others need a treat to convince them to listen to you. You could also try a quick game as a reward if your dog is toy-oriented.
Another important part of how to train a dog to stay is keeping the training durations short. Dogs have short attention spans, especially puppies, so practice the stay for one minute at the most when you're just starting out. As they learn, you can gradually increase the time of training, as well as the duration, distance, and distractions.
Increasing the Stay Duration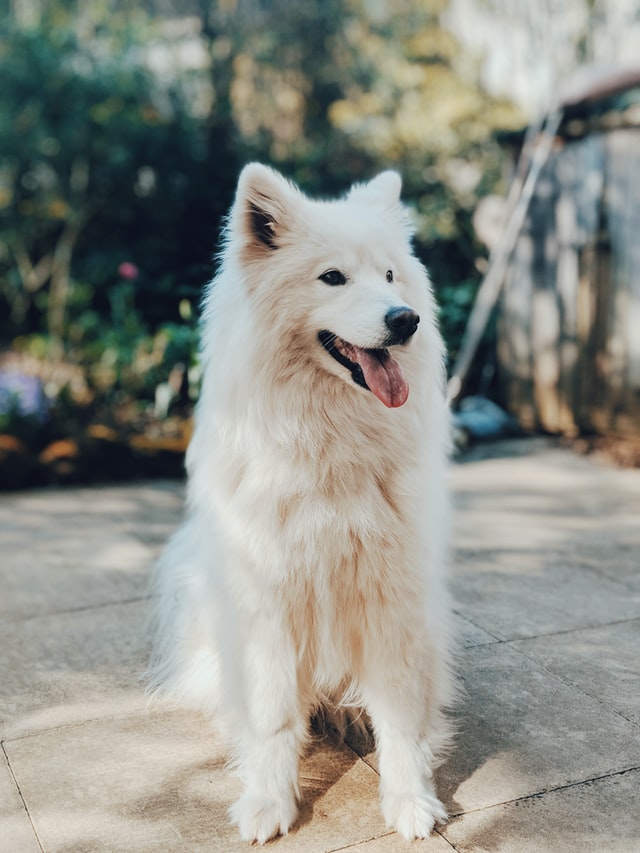 When you're learning how to teach a dog to stay, you need to gradually build up the amount of time for which your dog is staying.

Begin as above, putting your dog into the sit or down position, and then telling them to stay. Then, count to three in your head before saying the release word for your dog and rewarding them.

Then slowly increase the time in two-second intervals. Make sure you don't go too quickly; it's important to set your dog up for success, not failure! Adding too many seconds to the stay can lead them to frustration, which is not good for either of you.
What to Do if Your Dog Moves Before You Say the Release Cue
As you teach a dog how to stay, it's inevitable they'll get up before you say the release word. The key is to not get frustrated. Simply put your dog back into the sit or down position and start again. However, this time, don't leave them in the stay for as long before saying the release word.
Extending the Stay Distance
The distance as you train a dog how to stay refers to how far away you are or move from your dog while they're in the stay. You can teach your dog to stay while you walk hundreds of meters away, but it all starts with just half a step.
Position your dog in the sit or down position and then give them the stay command.
To teach a dog how to remain in the stay, move just one foot backward and lean back slightly before stepping forward to your dog again. Immediately give the release word for your dog and reward them.
The next time you do this, take a full step back before immediately returning to your dog and releasing. Carry on in this way, just one step at a time.
While you may be tempted to call your dog over to you to release them, avoid doing so for now. It's fine to do this once in a while, but make sure that you also practice returning to your dog before releasing them, too.
A Note About Using Treats
If you're using treats to teach a dog how to stay, make sure that your pooch can't see these while you're walking away from them.
Why?
Because the treats will act as a lure, encouraging your dog to stand up and follow you rather than remaining in their stay position.
Working with Distractions
As you train a dog how to stay, they'll likely pick up on all of the above pretty quickly, especially if you're working on this in a calm and quiet environment. However, add some distractions and everything could change. It's important to add distractions because there will be many natural ones when you use the stay command in a real-life setting.
When you are learning how to teach a dog to stay, you should only start working with distractions once your dog has a pretty solid understanding of the stay command. Also, ensure they obey the release word for dogs you chose.
Types of Distractions to Add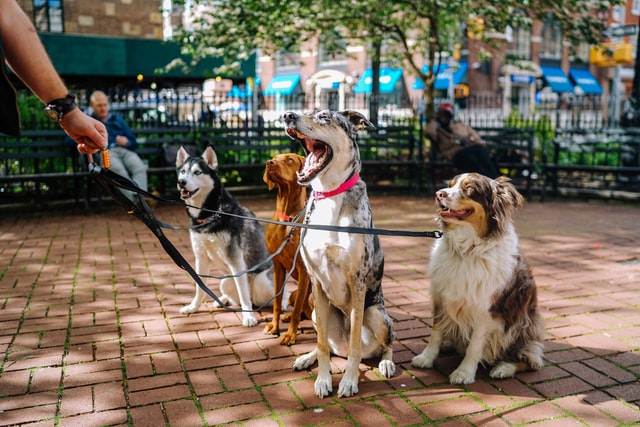 If you've been working on the stay command in the house, move outside.

Once your dog is responding well outdoors, ask a friend or family member to do something around the yard while you're training. Your dog should be able to listen to you while completely ignoring the distraction.

You can then start working on how to teach a dog to stay in different environments. However, make sure that any setting you choose is a safe one; you don't want to be training this command by the side of a busy road, for example.
The Advanced Stay
You've already worked on duration, distance, and distractions when learning how to train a dog to stay, but there are always ways in which you can improve on each of these. This will help to cement the stay command in your dog's head.
Here are a few ideas:
Duration – have your dog stay while you're doing different activities around the house. Try watching TV, cooking, or anything else. Make sure that your dog only moves upon hearing their release word.

Distance – teach your dog how to stay with varying distances. Try moving behind them or diagonally away from them and going completely out of sight.

Distractions – try providing a few distractions yourself while working on stay. You could run circles around your dog, or even throw a ball around. It may also help to ensure that your dog knows the "leave it" command before trying this.
It does take quite a bit of time and patience to teach a dog to stay, but this is a command really worth working on. Not only is it useful, but it could also prove to be essential to your dog's safety if you're in an environment in which they shouldn't run freely.